Shopping Cart
Your Cart is Empty
There was an error with PayPal
Click here to try again
Thank you for your business!
You should be receiving an order confirmation from Paypal shortly.
Exit Shopping Cart
Bringing order and ​harmony into your life

| | |
| --- | --- |
| Posted on August 7, 2013 at 1:06 AM | |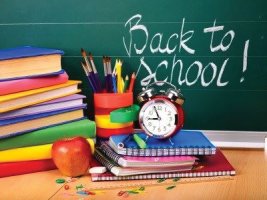 Now that the long summer vacation is almost over,  are you prepared for the changes that come with  going back-to-school?  For some parents, the beginning of the school year brings apprehension because it could be the first time that their child is joining school, or simply that school is starting once again!  For your child, he/she may be going through his/her own, "I don't know what the new year or being in a different grade shall bring" moment tinged with perhaps the excitement of what's to come.
If you are parents of school going kids, you may be seasoned enough to make the transition from vacation to school year smoothly.  On the other hand, you may be dreading the whole experience as it probably signifies the beginning of hectic days.  To make the transition smoother for your family, try establishing new routines or tweak existing ones so that they are more streamlined.  Below are some suggestions that you could incorporate to go:
From this                                                                       Happy camper
           to 
MORNING/NIGHT ROUTINE
Mornings tend to be difficult for many families, and if this is the case in your household, do as much as you possibly can the night before i.e. bath time, laying out clothes for the next day, packing snacks/lunches, packing back packs (ensuring that all homework, projects to be returned, signed permission slips, notes to teachers have been taken care of and packed).
If you have little ones who can't read, you could create a morning & night time pictorial checklist that guides them on what needs to be done daily before they go to bed and in the morning after they get up. 
Chances are that the kids have been going to bed later, and sleeping in during the vacation.  If you want them to be in bed by a certain hour on school nights, work on adjusting their dinner and bed time routine to an earlier time, say by an hour each week so that the change isn't so abrupt.
Have a dry run of the actual school drop-off routine a week or a few days before school starts to give yourself a better idea about how long it will take to drive the kids to school(if you're  part of a car pool), or to walk them to the bus stop.  You're also better able to determine how "late" you need to leave the house.
HOMEWORK ROUTINE
Location, location, location is key: find an ideal spot in the house to set up the homework center.  It should be well lit, well ventilated, and quiet enough to minimize distractions for the child.  Depending on the child's personality, you could set up  where you can closely monitor what's going e.g. in the kitchen/dining area,  or in your home office,  or in a dedicated space for the independent child.
Establish a time when homework should be done taking into account after-school curricular activities that the child may be involved in.  On days that your off schedule, try and follow the same pattern that you use daily to get the homework done i.e. maintain consistency.  Although some children may need a break right after school, others can begin their homework right away: a good guide would be to ensure that assignments are done before dinner, or earlier in the evening so that the child isn't too tired to get the work done.
Plan a time daily when you and your child can review his/her assignments.  This serves the purpose of giving guidance where it's needed, determining areas that your child may be struggling in, and also ensuring that the work has been properly completed.  Once homework is done, it should be put in the back pack.
Daily scheduling of assignments in a diary or say on a dry erase calendar should be encouraged, teaching the child to keep track of what's pending, deadlines and better allocation of his/her time.  Although you'd have to go through the backpack of younger children, the older ones should be guided to be self responsible and share their homework/school notes without too much prompting.



Sometimes things will fall out of your control, but keep rolling with the punches.  Tweak as necessary (until you find the ideal balance for your family) bearing in mind that children tend to thrive on consistency and routine.  What routines do you use or have you used in the past, that have been successful?

























Categories: Back to School

0

/