Shopping Cart
Your Cart is Empty
There was an error with PayPal
Click here to try again
Thank you for your business!
You should be receiving an order confirmation from Paypal shortly.
Exit Shopping Cart
Bringing order and ​harmony into your life

| | |
| --- | --- |
| Posted on April 29, 2013 at 11:33 PM | |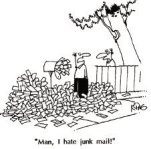 LOVE this caption!   Doesn't it just epitomize what the majority of us feel about unwanted paper?
If you're reading this, chances are that  you dislike the clutter (mental and physical) that junk mail creates, and would do your utmost to ensure that it doesn't get past your door.  
The folks over at 
Privacy Rights Clearinghouse
 are dedicated to empowering consumers on how to protect their privacy, and have a website that's both informative & resourceful.  See what they have to say about junk mail i.e what it is, and what you can do to significantly reduce it in your life. 
JUNK MAIL
Junk mail is advertising of one sort or another that arrives in your postal mailbox along with the mail you really want or need. What we call junk mail is actually the result of direct marketing campaigns designed to get you to buy a product or service.  It's called direct marketing because it attempts to match you and your buying preferences with offers that are likely to make you buy a product or service.  
1. HOW DID I GET ON THESE LISTS IN THE FIRST PLACE?                   
When you purchase a product or service and give the company your name and address, the chances are that you are being added to one or more mailing lists used for direct marketing.  This is true when you buy a car or a house, use a shopping card, sign up for a credit card, subscribe to a magazine, buy something from a catalog, give money to a charity, or fill out a product registration form.
Your name, address, and other contact information, as well as the type of product or service, is entered into a computer database.  
The business that collects the information will use it to solicit more business from you.  They might also rent their list to other businesses so they can send you advertisements.  Lists are valuable, and renting lists is big business.                                                                                                                 
2. HOW CAN I GET OFF?                                                           
There are a variety of strategies you can use to get off direct marketing lists:  
Mailing lists of the major national marketers                                     If you want to be taken off as many national mailing lists as possible, your first step is to contact the Direct Marketing Association's (DMA) Mail Preference Service (MPS). You must re-register after three years.


Register for the Mail Preference Service by mail:  Send a letter plus a $1 check or money order to:
Mail Preference Service

Direct Marketing Association
PO Box 643
Carmel, NY 10512




Click here for Privacy Rights Clearinghouse's simple mail-in form. 




When you register, your name and address are placed in a "Do not Mail" file which is updated monthly.  DMA members are required to update their lists at least quarterly, and some do it monthly.  Businesses that aren't members of the DMA may also take advantage of this "Do not Mail" list, so registering with the DMA will reduce much of your junk mail.



Register online: For a quicker option than postal mail, sign up online at theDMA's website. There is no fee for online registration. 
Register names of deceased: The Direct Marketing Association also gives you the ability to register the names of deceased loved ones with their Deceased Do Not Contact list(DDNC) at http://www.ims-dm.com/cgi/ddnc.php.
Flyers and Advertising supplements  
Flyers are those ads stuffed in with other advertisements and delivered to your mailbox by the handful.  Envelopes containing an assortment of ads are another in this category, as are card decks which are a group of post-card sized bundles of advertising on card stock.                                                                                                             
The ads are often from local merchants and may be for carpet cleaning, window replacement, restaurants, cheap electronics and any number of other products and services. They are usually addressed to "Resident" or "Occupant" at your address. 
To reduce this kind of junk mail, do the following:    
Look for a mailing label attached directly to the flyer. You may see the name of the distribution company near your mailing address. If you don't find a label, you may find a phone number printed on the edge of the flyer itself.
Contact the company as indicated below, and request that your address be taken off the mailing list. If you're making a written request, send a copy of your mailing label along with the letter. If you call, chances are you'll have to work through a telephone tree and leave your name and address on an answering machine. It usually takes at least four to eight weeks to be removed. In some cases, the company may have a website that will allow you to remove yourself from their lists.
These are the major residential or occupant mailers:
Red Plum (Valassis): You can remove your name and addressfrom Red Plum (Valassis) mailings by completing their form.  
PennySaver in California and South Florida or The Flyer in West Florida: You can remove your name and address from these mailings two ways:
You may have to notify the distribution company more than once to make sure that your address has been removed from the mailing list. Once your name has been removed from the company's mailing list, you are also likely to have to remind your postal carrier not to deliver the advertising flyers. 


Catalogs, mail order lists and magazines
When you buy something from a mail order catalog, your transaction is likely to be reported to Abacus. Abacus members, mostly catalog and publishing companies, contribute and exchange information about their customers. Your name may also be sold to other catalog and publishing companies. One way or another, when you ask for one catalog, you're likely to get catalogs from other companies as well.  
There are two ways to opt out of the Abacus database. You'll need your name, including any middle initial, your current address, and if you've moved recently, your previous address.
By e-mail: 

[email protected]

By mail:
Epsilon Data Services
P.O. Box 1478
Broomfield, CO 80038



As a DMA member, Abacus subscribes to and suppresses any name and address on the DMA's Mail Preference Service file from its direct mail marketing lists.  Companies that do not participate in the DMAand Abacus opt-out programs must be contacted directly. This includes magazines, charities and many professional associations. 




It may take some hunting, but you can usually find a toll-free customer service number and/or address on the advertising piece.  

Let them know you not only want to be off their list, but you don't want them providing your contact information to other companies.




For magazines, it is best to inform them that you do not want your name and address sold to others when you subscribe. Be sure to inform them in writing.







Look 

here

 for ways of dealing with unsolicited mail from the sources below:

- Pre Approved offers of credit

- Phone books & reverse directories

- U.S. Postal Service & the National Change of Address database

- Charities & Non profits

- Sweepstakes and prizes

- Product registration cards & Consumer Surveys

- Supermarket loyalty cards

- Public Records

- Data Compilers & Mailing list companies




Value your privacy?  Want to take control of your personal information and limit accessibility?  Be proactive and find out more about your 

Privacy Rights

!






















Categories: Paper clutter, Junk mail

0

/